Do you want to improve your smile?
Get all your questions answered for FREE in 3 easy steps without leaving your home.
Tell us what you're hoping to achieve

Recieve your personalized consultation video from your dentist
Cosmetic dentistry in Gilbert and Mesa, AZ.
Everything we do is focused on keeping your teeth and gums healthy, but what about making them look nice? We do that too! We can use cosmetic dentistry to make your smile dazzling in completely new ways.
Do you need your teeth to be straighter, whiter, or shaped better? Do you need to upgrade your smile for a special occasion—or simply for a better quality of life?
Call Artistry in Dentistry to get fast, dramatic results with the cosmetic dentist services below. Dr. Sullivan is a member of the AACD as well as The Pacific Aesthetic Continuum (PAC)—a major organization focused on designing beautiful smiles.
"Because of Dr. Sullivan I have the smile I have." – Heather
Benefits of cosmetic dentistry.
What could a new, gorgeous smile mean to you? We have seen many of our patients walk out with a new bounce in their step and confidence in their voices. The change in their demeanor even beyond the smile itself is remarkable. We love to see it happen—and would love to give that to you.
It's a relief when a problem is solved. Maybe you've been struggling for years with a problem like yellow-ish teeth or a crooked row of teeth. Imagine the weight off of your mind once it's resolved!
"Dr. Sheldon Sullivan is an excellent dentist with so much experience. Everything about my experience, plus the staff are excellent."

– Patricia
Common cosmetic dental procedures.
Patients enjoy having these services, among many others, completed at Artistry in Dentistry because our team members are truly friendly and caring! We watch out for the good of our patients. We'll guide you toward the right services for you but let you make the final decision about your smile.
Teeth Whitening
Get ready for a special event or a new job. We can whiten your teeth by up to 10 shades. We'll position the whitening tray just right, and you can sit and relax while the formula works to whiten your teeth. You can also take a kit home with you and enjoy your whitening treatment while sitting on your couch.
Porcelain Veneers
Porcelain teeth veneers bond to the front of your teeth. That means we can make your teeth look any way you'd like: white, undamaged, straight, larger, more uniform. We can cover gaps, cracks, and stains. Let us know about your smile goals. Teeth veneers may help you reach them!
Dental Bonding
Instead of creating and placing entire veneers, we can add a composite material to the front of your teeth just where it's needed to correct small chips or cracks. Dental bonding is a very flexible technique that can repair minor blemishes in teeth for a low cost.
Teeth Straightening With Invisalign®
Having crooked teeth is a very common complaint, but many patients don't like the look of metal braces. Instead, get clear aligners that gradually move your teeth to make them into a straight and stunning new smile!
Laser Gum Contouring
If your gum line is not the shape that you like, you notice it in the mirror—maybe every day. Now with laser dentistry, Dr. Sullivan can very quickly remove the gum tissue that we don't want and stimulate the gums to grow correctly, and this is all done painlessly and without metal tools.
Dr. Sullivan's cosmetic dentistry credentials.
Are you looking for a qualified cosmetic dentist? Come visit us at Artistry in Dentistry in Gilbert, AZ! Dr. Sullivan's extensive credentials include the following:
Dr. Sullivan teaches and trains fellow dentists in the fields of implants, cosmetic dentistry, and complex restorative dentistry. He is a clinical mentor at Spear Education and lectures at conferences and workshops nationwide.
Dr. Sullivan is a member of the American Academy of Cosmetic Dentistry (AACD) and The Pacific Aesthetic Continuum (PAC).
Dr. Sullivan has been voted Phoenix Top Dentist 10 years running, the highest cumulative votes in the history of the magazine in 2019.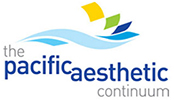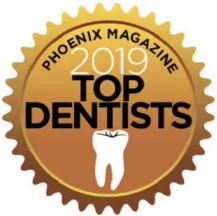 Contact Dr. Sullivan for a new smile!
The beautiful smile you've always wanted could be right around the corner. If your smile has been damaged by a cavity or another problem, we can fix it. Just
contact Artistry in Dentistry
today!