Dental implants in Gilbert, AZ.
Here at our office, we strive to help our patients prevent dental damage and tooth loss as much as possible, but we understand that sometimes tooth loss happens anyway. Missing teeth can happen as a result of untreated gum disease, traumatic injury, or even aging.
Whatever the cause, we can help you repair that smile with natural-feeling, implant-supported teeth. Dr. Sullivan even has memberships in the American Society of Implant & Reconstructive Dentistry (ASIRD) and the Academy of Osseointegration (AO), reflecting his dedication to excellence in implant dentistry.
Benefits of tooth implants.
Receiving dental implants at our practice has a number of benefits for patients:
Maintains Oral Health
Tooth implants can relieve the frustrations and health problems that come with losing a tooth or teeth. A missing tooth can cause other teeth to move out of their best positions toward the socket.
Functionality and Appearance
Several missing teeth can cause you to change your diet to softer foods. Imagine being able to go back to when you had more teeth! Imagine the relief and confidence that would give you.
Cutting Edge Technology
We use a state-of-the-art CT scanner to plan your implant surgery. This will find the ideal placement location in your jaw for your dental implants. We'll plan it well to make it a success.
One-Stop-Shop for Implant Dentistry
At Artistry in Dentistry, we coordinate every step of the dental implant process through our office. This is convenient and comfortable for you, because you know Dr. Sullivan is watching over the process and responsible for the overall plan. We'll also design and place your crown or dentures.
What are dental implants?
If you have any missing teeth, it's important to get them fixed as soon as possible. With a hole in your smile, not only do you run the risk of your other teeth going out of alignment, but your jawbone also begins to decay wherever it is not supported by a tooth root.
Dental implants are small titanium rods that are medically inserted into your jawbone to act as a new tooth root and keep your jawbone stimulated to prevent that facial decay. Here at our office, we can place both single-tooth implants as well as prepare your mouth for a full set of implant-supported dentures.
"Dr. Sullivan is amazing. I would travel an hour to see him. Well worth it! If you need an implant, this is certainly the place you want to have it done."

– Michelle
The dental implant process.
The dental implant process can be broken down into three phases:
Evaluation
As is the case with most medical treatments, the first step in the dental implant process is giving you a full dental evaluation to see if you are a good candidate for this procedure. You need a viable amount of good jawbone for us to place the implant, which in some cases may require a bone graft. Dr. Sullivan can determine if you are a good candidate for dental implants. We use our CBCT machine to accurately scan your jaw and safely plan the perfect place for the implant, so it doesn't interfere with your other teeth.
Placement
After you have been approved for a dental implant restoration, we work closely with a trusted oral surgeon who performs the procedure of placing the implant in your jaw. Dr. Sullivan may even go with you to the surgery if you have more involved needs. The newly placed implant will need time to heal and make sure the implant bonds with your jaw correctly before we move on to the next step.
Restoration
When the implant has healed as much as it needs, you will then come back to our same office again where we will replace the visible surface of your missing tooth with a beautiful crown or a set of dentures that are custom-made to match the color and shape of the rest of your smile. After this procedure, you can eat, brush, and floss your new teeth just like your natural teeth!
Am I a candidate for implant dentistry?
Before we begin an implant for you, we'll make sure that your jaw is ready for it. If necessary, we'll even clean your teeth and eradicate any gum disease. Using our CT scanner, we'll find if your jawbone has the right bone density to support an implant or implants.
If your bone density is low, we can perform a bone graft. This will add more bone material to your jaw, which will better anchor the implants.
How much do tooth implants cost?
While implants may be a large investment upfront, they will actually save you money in the long run compared to other options—including other restoration options and doing nothing.
When you're missing a tooth or teeth, it can negatively affect your long-term health—even if those effects may not be immediately visible. You may not be able to eat your favorite foods, and it can affect your speech. Besides that, not replacing missing teeth can cause your other teeth to shift out of place and your jawbone to shrink away.
That's why we truly see dental implants as a wise long-term investment in your health. They become a solid and permanent part of your mouth, and they can support your smile for the rest of your life!
"Dr. Sullivan is amazing. I would travel an hour to see him. Well worth it! If you need an implant, this is certainly the place you want to have it done."

– Michelle
For an excellent dental implant dentist, Dr. Sullivan is just who you're looking for!
You can rest assured that Dr. Sullivan is an experienced and highly qualified implant dentist. He teaches and trains other dentists in implants and cosmetic dentistry, as well as complex restorative dentistry. Dr. Sullivan is also a clinical mentor at Spear Education and lectures at nationwide conferences.
Your Gilbert, AZ, dentist Dr. Sullivan is a member of the Academy of General Dentistry, the AACD, ICOI, AAID, the Academy of Osseointegration, The Pacific Aesthetic Continuum, and the American Society of Implant & Reconstructive Dentistry. Don't miss your chance to visit the Phoenix Top Dentist for the last 10 years!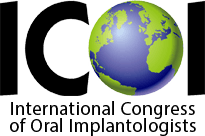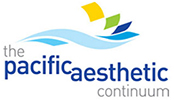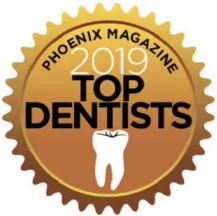 Repair your smile, repair your dental health at our office.
We can both place and restore dental implants in one office for easy access. For comfortable repair of your smile and jawbone, schedule a consultation with Dr. Sullivan today!