New Product!
June 11, 2021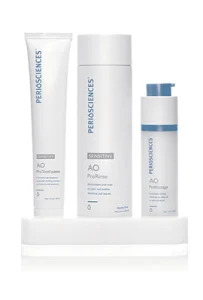 In some of our past posts we've talked about choosing the right dental care products. While there are many great products out there, we're really excited to offer a new product in our Gilbert dental office, Periosciences. Most oral care research has focused on bacteria. Periosciences approach focuses on the mouth's natural defense system – salivary antioxidants. Periosciences utilizes many natural ingredients with well documented antibacterial properties. Their products use antioxidants to help maintain a healthy mouth and to help reduce inflammation due to infection or trauma.
At Dr. Sullivan's Gilbert office we offer two types of kits, one for sensitivity and one for dry mouth. Each includes toothpaste, hydrating mouth rinse and gel.
The sensitivity kit includes toothpaste containing fluoride and potassium nitrate which help to reduce sensitivity. The mouth rinse is a mild mint rinse which is soothing to the gums but contains antioxidants to help reduce inflammation. There is also a gel in the kits which quickly reduces inflammation and sooths tissues.
The dry mouth kit is very similar to the sensitivity kit, but the important difference is the gel. The Periosciences dry mouth gel is hydrating and non-irritating to the tissues in your mouth. Patients that have dry mouth get tooth decay more easily due to the saliva not buffering the low pH in the mouth caused by acidity in food and drinks. Also, because the saliva flow is reduced, it's not rinsing plaque and food off the teeth. The dry mouth gel helps moisten the mouth, keeping you more comfortable.
I personally have used the Periosciences sensitivity kit after I had a crown done by Dr. Sullivan. I was experiencing a little sensitivity and decided to try the kit and was honestly surprised by how much I loved the products. The toothpaste is now my favorite toothpaste! The rinse and gel helped the gums around the new crown to heal quickly. I only recommend products that I've used and believe in, and I absolutely recommend the Periosciences products.
Call our office today at 602-492-9003, to schedule your appointment and ask about Periosciences